Maharaja Whiteline Lava (HH-100) Halogen Room Heater
Sku hh-100
Special Price
₹2,299.00
Warranty
1-year warranty by Maharaja
Highlights
Model:

Lava

| Make:

Maharaja

Power Consumed: 1200 W
Quartz Tube: Three quartz heating tubes
Reflector Rust-free stainless steel reflector
Safety: Tip-over switch
Important Notes
To avoid any physical damage to the product while unboxing, please ensure that only an authorized delivery/service executive or brand personnel opens the packaging. For products requiring installation, returns are valid only when they are installed by Company-authorized personnel.
You may also like
Luminous TA130D Automatic Voltage Stabilizer for 1.5 Ton Air Conditioner

Special Price

₹3,299.00

LG 308 L 3 Star Frost-Free Smart Inverter Double Door Refrigerator (GL-S322RBCX, Blue Charm, Convertible & Multi Air Flow)

Special Price

₹40,590.00

USHA Mist Air Flo 400mm Pedestal Fan (Light Blue), Standard

Special Price

₹3,349.00

LG 260 L 2 Star Frost Free Inverter Double Door Refrigerator(GL-S292SPZY, Shiny Steel, Convertible)

Special Price

₹28,390.00

Godrej 300 L Deep Freezer (DpFrz GCHW310R6DXB Htop, White)

Special Price

₹25,969.00

Usha Bloom Daffodil Goodbye Dust Ceiling Fan 1250mm (Sparkle Red and Black, Pack of 2)

Special Price

₹7,049.00

Havells Opal 3 Litre 3000 watt Instant Water Heater (White)

Special Price

₹3,749.00

Voltas Beko 275 L 2 Star Double Door Refrigerator (RFF295D60)

Special Price

₹29,294.00

LUMINOUS NXG1600 + LPTT12150H 150Ah (2) 165Watts Solar Panel (4) (Poly) Pure Sine Wave Inverter

Special Price

₹79,890.00

Luminous Inverter & Battery Combo for Home, Office & Shops (Zelio+ 1100 Pure Sine Wave Inverter, InverGel 18000 150 Ah Gel Tubular Battery), Blue

Special Price

₹29,590.00

Voltas CF HT 320 DD P Double Door Deep Freezer, 320 Liters, White

Special Price

₹22,990.00

LG 6.5 kg Fully Automatic Top Load Washing Machine Silver (T65SPSF2Z)

Special Price

₹21,590.00

KENT Smart UV | 4 Stage Smart Online UV Water Purifier | White Colour| High Purification Up to 60 L/hr

Special Price

₹6,590.00
TECHNICAL INFORMATION
General Information
| | |
| --- | --- |
| Brand | Maharaja |
| Model Name | HH-100 |
| Function | Quartz heater for Domestic use |
| Heat Setting | 3 Heat setting |
| Oscillation Function | Yes |
| Tip Over Switch | Yes |
TECHNICAL SPECIFICATIONS
| | |
| --- | --- |
| Maximum Power Consumption | 1200 W |
Additional Information
| | |
| --- | --- |
| GST (%) | 18 |
| Country of Origin | India |
From The Manufacturer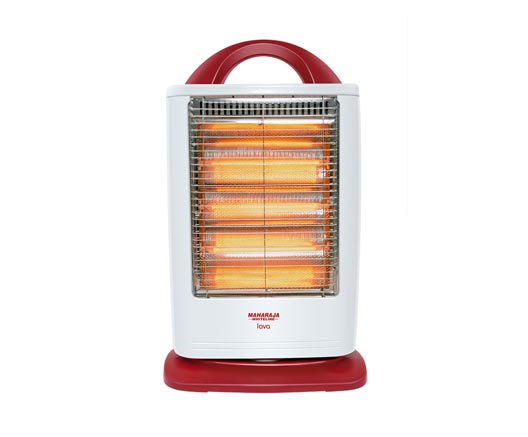 Three-heat Settings

The 3 heat settings (400 W, 800 W and 1200 W) provide different levels of heating for your room. You can set the heat level from lowest to highest according to your comfort.

Design

This stylish room heater comes in a beautiful and exclusive design that blends with different interior settings. The vertical design also ensures that you can keep it easily in your room without spoiling its beauty.

180-degree Rotation

This makes it easy to move the head of the heater for uniform heat distribution and better coverage.

Warranty

1 year warranty.

ISI Certified

ISI certification makes it safe for use.

Safety Features

This heater is made up of a shock-proof ISI marked body which ensures safety even after regular usage.

Tip over switch

The room heater also does not require any installation, you just need plug-in and it will start working instantly. The tip-over switches allow you to adjust it according to your convenience.
Reviews
You may also like
LG 204 L 4 Star Direct-Cool Single Door Refrigerator (GL-B211CPZY, Shiny Steel Moist 'N' Fresh)

Special Price

₹21,699.00

LG 308 L 3 Star Frost-Free Smart Inverter Double Door Refrigerator (GL-S322RBCX, Blue Charm, Convertible & Multi Air Flow)

Special Price

₹40,590.00

USHA Airostrong Angle 1200 mm 3 Blade Ceiling Fan (Metallic White, Pack of 3)

Special Price

₹7,299.00

LUMINOUS Ultra Charge UCTT 24066 180 Ah, Tubular Technology batteries Inverter, Battery

Special Price

₹19,490.00

LG 260 L Frost Free Double Door 2 Star Refrigerator (Dazzle Steel, GL-N292BDSY)

Special Price

₹25,690.00

Daikin 1.5 Ton 3 Star Split AC (DTL50TV16V3 White Copper Condenser)

Special Price

₹35,490.00

AKAI 80 cm (32 Inches) HD Ready AKLT32N-FLB53SP with Frameless Design (Black)

Special Price

₹13,490.00

LG 108cm (43 inch) Ultra HD (4K) LED Smart TV (43UM7780PTA)

Special Price

₹46,990.00

LG 215 L Direct Cool Single Door 4 Star Refrigerator (Blue Charm, GL-D221ABCY)

Special Price

₹21,690.00

LG 204 L Single Door Refrigerator with Smart Inverter Compressor in (GL-B211HRRZ, Ruby Regal Color)

Special Price

₹20,290.00

LG 109.22 cm (43 inch) Ultra HD (4K) LED Smart TV (43UM7790PTA)

Special Price

₹43,190.00

LUMINOUS Solar Home Solution NXG+ 1450 & LPTT 12200L 200Ah (1N) Solar Tubular Battery & PV 170W (2N) Poly Crys Module Pure Sine Wave Inverter

Special Price

₹51,590.00

LG 190 L Direct Cool Single Door 2 Star Refrigerator (Scarlet Euphoria, GL-B199OSEC)

Special Price

₹16,390.00

LG WW155NPB 8 litres RO+UV Water Purifier with Digital Sterilizing care and In Tank UV LED

Special Price

₹21,990.00

LPTT 12150H 150Ah Luminous Solar Tall Tubular Battery C10

Special Price

₹19,490.00

Voltas 1.5 Ton 3 Star Inverter Split AC (183V CZR, White)

Special Price

₹36,990.00

Maharaja Whiteline Nano Carbon, 500 Watts Room Heater (Black, White), Standard

Special Price

₹1,280.00

LG 190 L 5 Star Direct-Cool Single Door Refrigerator (GL-D201ABEZ, Blue Euphoria)

Special Price

₹19,990.00

LG 7.5 kg 5 Star Semi-Automatic Top Load Washing Machine (P7530RGAZ, Dark Gray, Roller Jet Pulsator)

Special Price

₹13,990.00

OGeneral 1 Ton 3 Star Split Inverter Air Conditioner ASGA12CLWA-B, White

Special Price

₹41,990.00

Standard Havells Storage Water Heater Geyser (Droid m, 15 L)

Special Price

₹9,990.00

Voltas Adjustable Inverter AC, 1.5 Ton, 4 star (184V DAZAF, White)

Special Price

₹37,990.00

Usha Bloom Daffodil Goodbye Dust Ceiling Fan 1250mm (Sparkle Red and Black, Pack of 2)

Special Price

₹7,049.00

Daikin 1.5 Ton 3 Star Inverter AC with 100% Copper (FTL50TV16V3, White)

Special Price

₹36,990.00

LG WW151NPR Dual protection airtight Stainless steel Tank with Multi Stage RO Filtration

Special Price

₹21,090.00

Voltas 200L 3 Star Single Door Direct Cool Refrigerator RDC220C60/FBEXBXXSG

Special Price

₹19,290.00

LG 215 L 3 Star Direct-Cool Single Door Refrigerator (GL-D221ASED, Scarlet Euphoria )

Special Price

₹20,249.00

LG DFB532FP Dishwasher with TrueSteam, QuadWash, Inverter Direct Drive Technology, Silver

Special Price

₹57,490.00

Godrej 200 L Direct Cool Deep Freezer Convertible Refrigerator(White, DpFrzr 200L GCHW210R6SIB Htop)

Special Price

₹19,499.00

Luminous Inverter & Battery Combo with Trolley for Home, Office & Shops (Zelio+ 1100 Pure Sine Wave Inverter, RC 15000 120 Ah Tall Tubular Battery)

Special Price

₹22,090.00