KENT Prime TC (11030), 9 Litre Wall Mountable RO+UV+UF+TDS with Advanced Computer Controller Technology (White) Water Purifier
Sku PrimeTC
Special Price
₹16,999.00
Warranty
1 Year Warranty + 3 Years Free Service AMC By Kent
Highlights
Model:

Prime TC

| Make:

Kent

Type: Electrical & Storage
Capacity: 9 L
Technology: RO + UV + UF
Important Notes
Free Standard Installation in India.
To avoid any physical damage to the product while unboxing, please ensure that only an authorized delivery/service executive or brand personnel opens the packaging. For products requiring installation, returns are valid only when they are installed by Company-authorized personnel.
You may also like
LG 204 L 5 Star Inverter Direct-Cool Single Door Refrigerator (GL-D211HERZ, Ebony Regal, Base stand with drawer)

Special Price

₹21,299.00

HAVELLS Gracia Plus Mixer Grinder 750 W Mixer Grinder (3 Jars, Purple)

Special Price

₹3,990.00

V-Guard VGMW 500 Plus Mainline Voltage Stabilizer 15A (90V-300V) Mainline Voltage Stabilizer (Grey)

Special Price

₹12,990.00

Usha Swift Alpha 1200mm Ceiling Fan W/O Reg (vibrant Blue)

Special Price

₹2,159.00

LG 272 L Frost Free Double Door 2 Star Smart Inverter Compressor With Convertible Refrigerator (Blue Euphoria, GL-S312SBEY)

Special Price

₹34,499.00

LG 423 Litres 2 Star Frost Free Smart Inverter Double Door Refrigerator (GL-N422SDSY, Dazzle Steel)

Special Price

₹46,390.00

Luminous 3000 Inverter 1 with RC 18000 Battery 2 Blue, Standard (iCruze3000-1_RC18000-2)

Special Price

₹53,690.00

Usha Fontana Lotus 1230mm Ceiling Fan with Decorative Lights (Black Chrome)

Special Price

₹9,199.00

Voltas Maha Adjustable Inverter AC, 1.5 Ton, 5 Star- (185V Vertis Emerald, White)

Special Price

₹41,990.00

Voltas Fixed Speed Window AC, 2 Ton, 3 star-WAC 242 Vectra Plus

Special Price

₹38,990.00

Voltas 225 L 3 star Direct Cool Refrigerator ( RDC245C60/VWEXXXXSG, Vivi Wine)

Special Price

₹19,290.00

Usha Colossus Rust Free Aluminium Blade 400mm Pedestal Fan (Red)

Special Price

₹3,199.00
TECHNICAL INFORMATION
General information
| | |
| --- | --- |
| Brand | Kent |
| Model Name | Prime TC |
| Color | White |
| Purified Water Temperature | Room Temperature |
| Capacity (Litre) | 9 L |
| Installation Type | Wall Mounting |
| Filters | Sediment, Carbon Block Filter, UF & Post Carbon |
| Net Weight (Kg) | 8.4 kg |
| Body Material | ABS Food Grade Plastic |
PRODUCT DIMENSIONS
| | |
| --- | --- |
| Product (W*H*D) mm | L (410) W (260) H (520) |
Other Information
| | |
| --- | --- |
| GST (%) | 18 |
| Country of Origin | India |
From The Manufacturer
KENT Prime TC
World's most advanced domestic RO water purifier with a transparent design that shows off KENT's patented Mineral RO technology and an inbuilt TDS controller. Best suited for Indian homes and offices and suitable for purification of brackish/tap water/municipal corporation water supply.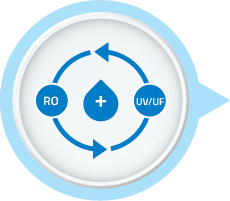 Double Purification
The double purification of RO + UV / UF removes even dissolved impurities such as chemicals, bacteria, viruses and salts, making the water 100% pure.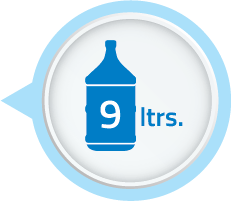 High Storage and Purification Capacity
KENT Prime TC has 9 litres of purified water storage capacity. Its high purification capacity of more than 20 L/hr helps in providing purified water at a faster rate, making it easily available for you.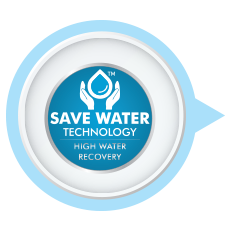 Save Water Technology
Conventional RO purifiers reject a lot of the water and retain only a small quantity of water as purified. KENT's Save Water Technology uses a computer-controlled process to recover more water as purified. The rejected water is stored in a separate tank which can be utilized for mopping and washing.
Specifications
| | |
| --- | --- |
| Applications | Suitable for Purification of Brackish / Tap Water |
| Purification Capacity | Upto 20 LPH* |
| Body Material | ABS Food Grade Plastic |
| Mounting | On the Wall |
| Dimensions(mm) | L 410 W 260 H 520 |
| Inlet Water Pressure/Temp (Min) | 0.3 kg / cm 2 / 10° |
| Inlet Water Pressure/Temp (Max) | 4 kg / cm 2 / 40° |
| Filter Cartridges | Sediment, Carbon Block Filter, UF & Post Carbon |
| Auto-Flushing System | Yes |
| UV Lamp Wattage | 11 Watt |
| Weight | 8.4 kg |
| Storage Capacity | 9 L |
| Maximum Duty Cycle | 100 L/day |
| Power Consumption | 60 W |
| Membrane Type | Thin Film Composite RO |
| Booster Pump Voltage | 24 V DC |
| Input Power Supply | Single Phase 100-250 V AC, 50-60 Hz |
| Patent No | 199716 |
| Design Registration No | 262661 |
Installation, Warranty & After-Sales Service
Installation shall be done free of cost at customer's premises
Product warranty shall be effective from the date of installation. Warranty coverage period for different parts shall be as under:
All Electricals and Mechanical parts - 1 Year
Consumables like RO Membrane & UF Membrane - 1 Year
Consumables like Sediment Filter, Carbon Filter & Post Carbon Filter - 6 Months
After-Sales service shall be provided at customer's premises on demand basis
**Purification capacity tested on raw water with TDS level of 750 ppm at room temperature
*T&C Apply
Reviews
You may also like
235L, Fastest In Ice Making, Direct Cool 3 Star Refrigerator (Blue Charm, GL-D241ABCD)

Special Price

₹22,390.00

KENT Elite Plus New RO Water Purifier with 50L/hr Purification Capacity

Special Price

₹42,990.00

Voltas Beko 275L 2 Star Frost Free Double Door Refrigerator (RFF295D60/CWRXDIXXX, Wine)

Special Price

₹24,990.00

LG 185 L 1 Star Direct Cool Single Door Refrigerator (GL-B199GPRB, Peppy Red)

Special Price

₹14,290.00

LG 9 kg 5 Star Semi-Automatic Top Loading Washing Machine (P9040RGAZ, Grey, Lint collector)

Special Price

₹17,790.00

Usha 15 L Storage Water Geyser (Misty 15L Ivory Cherry Blossom)

Special Price

₹7,300.00

Usha Racer 1200MM Ultra High Speed 400RPM Ceiling Fan Brown W/O REG, (Pack of 4)

Special Price

₹8,490.00

Voltas 225 L 3 star Direct Cool Refrigerator ( RDC245C60/DWEXXXXSG, Dhalia Wine)

Special Price

₹19,090.00

USHA CF 1200MM 5 Star 3 Blade Ceiling Fan (RHO, Silk Grey)

Special Price

₹7,800.00

Usha Smash Mixer Grinder (MG-2853) 500-Watt 3 Jars (White)

Special Price

₹2,449.00

LG 190 L 5 Star Direct-Cool Single Door Refrigerator (GL-B201AERZ, Ebony Regal)

Special Price

₹19,390.00

Usha Aqua Swirl 15 Litre 5 Star Storage Water Heater with Copper Heating Element (White Grey)

Special Price

₹8,590.00

LG 408 Litres 2 Star Frost Free Smart Inverter Double Door Refrigerator (Smart Diagnosis, GL-N412SDSY, Dazzle Steel)

Special Price

₹42,990.00

Godrej 300 L Deep Freezer (DpFrz GCHW310R6DXB Htop, White)

Special Price

₹25,969.00

LG 270 L Direct Cool Single Door 3 Star Refrigerator with Base Drawer (Scarlet Charm, GL-B281BSCX)

Special Price

₹26,190.00

Havells Troica 15 Litre 4 star Storage Water Heater (White Grey)

Special Price

₹8,436.00

LG 8 kg Fully Automatic Top Load with In-built Heater Black (T80SJMB1Z)

Special Price

₹27,890.00

Philips SPA3800B/94 28 W Portable Bluetooth Home Theatre (Black, 5.1 Channel)

Special Price

₹4,499.00

Voltas 1 Ton, 3 Star Adjustable Inverter AC, (123V Vectra Elite)

Special Price

₹34,990.00

Havells OFR 9 Wave Fins with Fan Beige 2500 (White) Heater

Special Price

₹11,990.00

Daikin 1.5 Ton 4 Star Split Inverter AC - White (FTKY50UV16U3, Copper Condenser)

Special Price

₹43,990.00

Luminous UPS Sine Eco Volt Neo 1650 Inverter For Home, Office, And Shops

Special Price

₹9,090.00

Luminous Inverlast ILTT26060 220Ah Tall Tubular Inverter Battery

Special Price

₹22,990.00

Luminous Solar Inverter NXG 1450 12V, 1100VA Solar Home UPS

Special Price

₹10,590.00

LG 2.0 Ton 3 Star AI DUAL Inverter Split AC (Copper, Super Convertible 6-in-1 Cooling, 4 Way Swing, HD Filter with Anti-Virus Protection, RS-Q24ENXE, White)

Special Price

₹60,990.00

Luminous Inverter & Battery Combo with Trolley for Home, Office & Shops (Zelio+ 1100 Pure Sine Wave Inverter, RC 15000 120 Ah Tall Tubular Battery)

Special Price

₹22,090.00

LG 204 L Direct Cool Single Door 3 Star Refrigerator (Scarlet Charm, GL-B211HSCD)

Special Price

₹18,290.00

LG 360 Litres 2 Star Frost Free Inverter Double Door Refrigerator (GL-S402RDSY, Grey)

Special Price

₹44,590.00

Daikin 1.8 Ton 4 Star Split Inverter AC - White (DTKL60UV16U, Copper Condenser)

Special Price

₹59,999.00

Usha Bloom Magnolia 1250mm 85-Watt Goodbye Dust Ceiling Fan With Anti Dust Feature(Grey & Blue, Pack Of 2)

Special Price

₹6,499.00

Luminous Eco Volt NEO 850 Ups + RC 15000 120 Ah Tubular Battery + Trolley

Special Price

₹19,590.00

LUMINOUS Invergel IGSTJ18000 150Ah Tubular Gel Battery Tubular Inverter Battery (150Ah)

Special Price

₹20,290.00

Standard Havells Storage Water Heater Geyser (Droid m, 10 L)

Special Price

₹8,790.00

Kent Turbo Grinder and Blender with Heating Function, Steel Grey

Special Price

₹11,900.00

Luminous Inverlast ILST12042 100Ah Short Tubular Inverter Battery

Special Price

₹11,290.00

LG 215 L Single Door Refrigerator with SpillProof Toughened Glass Shelves in Scarlet (GL-B221ASPD, Plumeria Color)

Special Price

₹19,790.00

LG 8 Kg Semi Automatic Top Load Washing Machine White, Burgundy (P8035SRAZ)

Special Price

₹15,490.00

Havells Monza DX 25-Litre Storage Water Heater with Flexi Pipe (White)

Special Price

₹10,490.00

Havells Bianca 10-Litre Vertical Storage Water Heater (Geyser) White 5 Star

Special Price

₹10,570.00

Luminous PCU NXT+ 3.75 kVA Inverter (1) with LPTT 12150H Battery (4) and Solar Panel 330W (9)- Blue

Special Price

₹245,890.00

Maharaja Whiteline Nano Carbon, 500 Watts Room Heater (Black, White), Standard

Special Price

₹1,280.00

LG 8.5 kg 5 Star Semi-Automatic Top Load Washing Machine (P8535SKMZ, Middle Black, Roller Jet Pulsator)

Special Price

₹16,990.00

Voltas 6.5 Kg 5 Star Fully Automatic Top Load Washing Machine With Monsoon Dry (WTL65UPGC, Grey)

Special Price

₹16,990.00

LG 190 L 3 Star Direct-Cool Single Door Refrigerator (GL-D201ASCD, Moist 'N' Fresh, Scarlet Charm)

Special Price

₹18,590.00